---
Hey everyone!
m0teL and me were thinking about a new XIII league for a couple of weeks now, so I'd like to introduce it to you: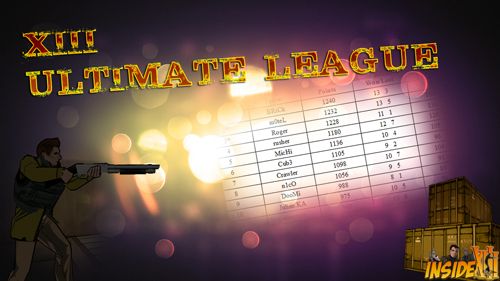 Our first intention was to create a 2on2 league, but this means to set fixed teams and always depending on your mate if you would like to play. And since finding dates to play in XIII is hard anyway, I came up with something different.
The idea is to motivate players, who still want to play. Everyone can sign in - if you don't play, you won't lose/win points.
The scoring system will be different than the ones used in past leagues, you'll get more points for winning against someone higher placed and you'll not get many points for winning against someone who's low on the table. For a further
detailed explanation
(including an example) and in order to
register
visit
this topic
.
---
Rules

:
The usual point limit in 1on1 is 10, 2on2 20, 3on3 30 points
There will be always 2 matches, so both teams can host once. But you can also decide to play on a dedicated host twice.
If you want to play 4 matches straight away, the scores will be devided by 2 so we get the correct Deviation again. Same for a 1on1 with point limit 20 by the way, but this shouldn't happen too often.
We need screenshots of each match's point table, posted in the League topic!
Obey the fair play rules, have fun.
If a player doesn't show up, he does not lose points or anything, but people might think twice before asking him again. If someone leaves [has to?] within a game nothing will happen either. But you are supposed to report it and in case it happens more often, we will p p punish him!
But all in all we hope everyone stays fair and friendly - it's all about fun.
---
See you ingame,
Julian